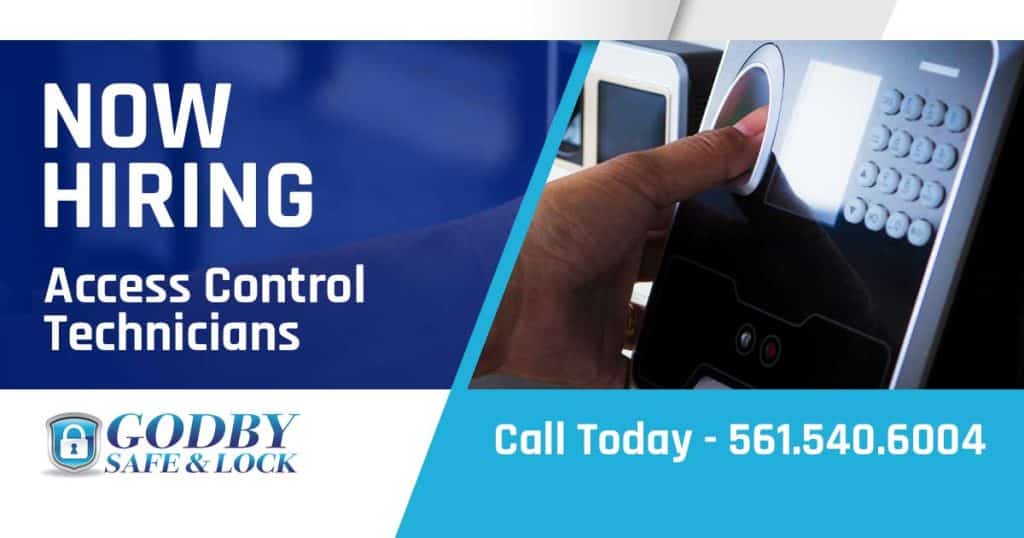 JOIN OUR TEAM TODAY!
Godby Safe & Lock has immediate openings for talented and detailed-oriented Access Control Technicians. In business since 1968, we are a full-service locksmith and security firm offering 24-hour emergency services to commercial and residential customers.
If you're seeking to become part of a family, we would love to hear from you!
Responsibilities:
• Skilled in handling electronic access control systems and low-voltage electronics.
• Conducts inspections and performs repairs on parking gate operators.
• Performs inspections and executes repairs on automatic door operators.
• Install, program and maintain accurate records of access control systems and effectively manages changes in those assignments.
• Performs other duties and responsibilities as required or requested.
Requirements:
• Skilled in the installation, repair, adjustment, and maintenance of access control systems, components, and related equipment.
• Demonstrates the capability to analyze maintenance and repair issues and resolve them in an appropriate, efficient, and effective manner.
• Proficient in handling basic electronics as they relate to security functions.
• MANDATORY: Valid Driver's License AND clean driving record.
• MANDATORY: Pass Background Check.
• MANDATORY: Neat and professional attitude and appearance.
Physical Requirements:
• Ability to push, pull and lift at least 50lbs.
• Ability to kneel, crouch and stoop.
• Ability to use hands and fingers to grasp, twist, and pull.
Salary is based on level of all-around experience and compatibility to the position.
Equal Opportunity Employer
CALL US AT 561.540.6004 or visit our Contact page to email us!