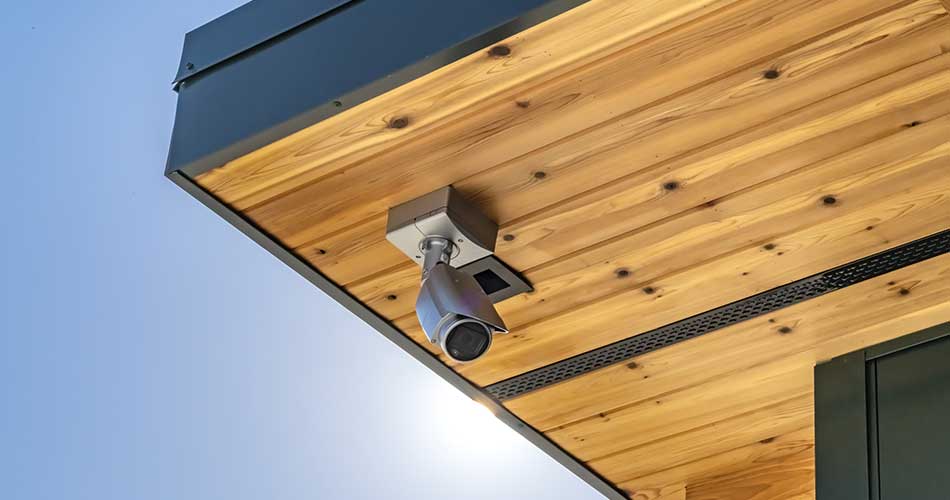 By Safety.com
Do you want to know what's going on in your home even when you're not there? Of course, you do. One of the best ways to do this is by installing a security camera. According to a recent study, most burglars are deterred by the sight of a security camera.
Whether you're planning to have your security cameras installed by a professional or a do-it-yourself installation, you'll need to know how to choose the right cameras and the best places to install your security cameras. Click on a section below or keep reading to learn more about how to safely install security cameras in your home.
5 best places to install home security cameras
Choosing the right places to install your cameras is as important as finding the right cameras for your home. To do so, it's best to walk through your home with your security goals in mind. Consider places like first story windows, garage doors or even basements as points of entry that would be most appealing to intruders.
Another good tip for camera placement is to install real cameras out of reach (and possibly out of sight). Then, place authentic-looking dummy cameras around your property. That way, if an intruder does break one of your cameras, it'll be an inexpensive dummy—and you'll have a video of the act.
Here are five spots you should always install a home surveillance camera:
1 Front door
An estimated 34% of all burglars enter your home through the front door, so you'll want to train one of your surveillance cameras here. To prevent an intruder from tampering with your camera, place it at second-floor level, or even in the eves of your house, and focus it on the front door. If your home has just one level, consider enclosing your front door camera in mesh wiring to protect it from errant rocks, sticks or other weapons.
Expert tip: You can install a peephole camera, so you can see who's knocking before you open the door. Ring Wi-Fi enabled video doorbell is one of the best-rated peephole cameras, with nearly 25,000 reviews and 4 stars on Amazon.
2 Back door
Another 22% of home burglars enter through the back and side doors, so you will want cameras here, as well. It's important to arm each entry door with a camera. Again, make the effort to place your camera out of the reach of human hands, or to protect it from anything an intruder might throw at it.
Expert tip: Be sure to install a camera that's both weatherproof and is equipped with night vision. The SUNBA outdoor security camera is one of the best out there, with up to 800 feet of night vision, audio and 20x optical zoom. This camera can pan 360-degrees and tilt up to 90-degrees.
3 Off-street window
Burglars often enter a home by breaking a rear window. By choosing a window that is not in direct view of the street, they decrease their chance of being caught. Placing cameras at rear windows will allow you to catch any intruders who may be out of view of the street.
Expert tip: Your best option here is to install a wireless security camera that has remote control capabilities and can be operated from a mobile device or tablet. Rated 4.5 stars on Amazon, Uniden's HD cameras with monitor set is a great option to add extra coverage to entry points like windows.
4 Backyard and side gate
Things like expensive lawn & garden machinery and kids' bikes left out can attract intruders to your yard. Be sure to arm your yard with motion-sensor floodlights and a night vision surveillance camera. If your backyard is fenced in, make sure your camera has a view of the entrance gate (or install a second camera there).
Expert tip: Place a camera in plain sight. Often, just seeing a security camera is enough to make a home intruder move on to another home. From a value perspective, ZMODO makes some of the most affordable yet highly-rated backyard security systems.
5 Basement stairs
Many basements have access hatches/doors, or at least small windows that are large enough to crawl through. Place a camera on the stairs leading up from the basement to your home to record any intruders who may break into your home through a basement window or other entryway.
Expert tip: When it comes to securing your basement, you want to install a motion sensor security camera that comes with night vision. Many home security providers offer motion-sensitive cameras with infrared night vision, but the Tenvis wireless surveillance camera balances cost and top-notch functionality.
DIY security camera installation 101
Installing a security camera yourself can save you money. It can also help you get better acquainted with your system and its features. When installing a camera yourself, it's important to consider the following:
• Map out where you want to place cameras so you know how many to buy.
• Make sure you have the proper tools to install the cameras.
• Test your equipment before installing.
• When installing a camera outdoors, mount it at least 10 feet above the ground or higher.
With a DIY installation, it'll be up to you to figure out how many cameras you need as well as which features meet your home and family's security needs.
• How many security cameras do you need?
• How many security cameras you need to protect your home generally depends on your home's size and layout. You'll need to consider things like how many areas you want to monitor, camera viewing angles and indoor vs. outdoor cameras to determine how many cameras you'll need.
You'll also find that surveillance systems offer either single or multiple channels. Each channel represents a single camera, so the number of channels you need in a system directly corresponds with the number of cameras you plan on using. If you only plan on monitoring a single area,  one camera and a single channel should be sufficient. However, if you would like to monitor several areas at the same time, you'll need a multi-channel system.
What's the best viewing angle?
Whether installing indoor or outdoor security cameras, you'll need to know how wide or narrow of a view you want prior to selecting your system. Wide angle lenses record wider viewing areas, but objects within that area will appear smaller. Narrow lenses record narrower views, but objects within that view will appear larger.
If you're installing a camera on your own and you're not sure whether you need a smaller or a larger field of view, you may want to choose a camera with a varifocal lens that can be adjusted appropriately during installation.
Which security camera features are important?
Lastly, you'll need to research and decide which features are important for your home security system. If you plan to have your system professionally monitored, you'll also want to research which home security companies support the features you want most. There are many features to consider when selecting a home security camera. When it comes to safety and customizing your system, start by considering these features:
• Live, remote monitoring: Easily check in on your home using your security system's mobile app or a web browser.
• Activity alerts: Receive real-time alerts via email, text, push notification, or phone call if your security camera picks up any suspicious activity.
• Cloud storage: Security footage is stored in the cloud, making it tamper-proof and easy to access and share.
• Panning and zooming capabilities: Most cameras allow users to pan, tilt, and zoom through the security system's app or web browser.
• Two-way voice communication: Use your security device's built in speaker and microphone to hear what's going on in your home and communicate with whoever is there.
• Multichannel recording: Monitor multiple rooms in your home using a multichannel security system.
• Tamper alerts: The security camera sends an alert when someone interferes with it.
• Night vision: Record at night using cameras equipped with infrared technology.
What's the value of professional installation?
A professional installer can save you time and guarantee that your cameras are installed correctly. Your installer can ensure you're using the right cameras for the type of surveillance you need. They can also make sure your security cameras are angled correctly and your walls are protected during the installation. Additionally, any repairs needed are usually covered by the installer's company.
If you don't feel confident about installing your security camera yourself, it's best to hire an installer. Doing so may cost more, but you're guaranteed the installation has been done correctly the first time. In addition, many of the best home security companies offer free installations and/or free equipment for customers who are willing to sign up for home monitoring services.
How much does it cost to hire a professional installer?
The cost of hiring a professional to install your security cameras will vary depending on location, special offers, your home's security needs and other factors. You may be able to get free installation when you sign up for home security monitoring with some companies. While other home security providers charge a fee for installation.
If you plan to hire someone else besides a home security provider to install your security cameras, make sure they are qualified. The last thing you want to have is a faulty camera installation that compromises your home security efforts.
What do you get with professional installation?
If you hire a professional to install your security cameras, a trained professional will walk through your home with you and help you determine how many surveillance cameras you need and where to install them. Be prepared to point out any particular areas of concern that you'd like monitored.
One of the advantages of hiring a professional installer is having an experienced person help you determine which viewing angles are best for the security of your home. During your initial walk-through, discuss the precise areas you'd like to monitor and how wide or narrow of a view you'd like. This will help your installer determine which camera lens you need and to calibrate your system accordingly.
Best indoor and outdoor security cameras to install
There are distinct considerations to take when installing indoor cameras versus and outdoor security cameras. Here's what you'll need to know to choose and install the best indoor and outdoor security cameras.
Indoor cameras
When installing an indoor camera, consider why you want a security system and which features will work best for you. For example, most indoor security cameras have built-in speakers and microphones, making it easy for working parents to communicate with their kids when they get home from school. Installing a camera near the entryway most used by your family will let you see comings and goings.
Rooms where you keep valuables a good place to install indoor cameras, too. Many indoor cameras feature panoramic views and let users pan, tilt and zoom in. This way, you're always able to keep a close eye on things even when you're not there.
Some of the best indoor cameras with these security features include:
Arlo Pro Security System with Siren by NETGEARArlo-Pro-security-camera 
The Arlo Pro Security System has a 4.5 out of 5-star rating on Amazon. It features a wireless, HD camera with night vision. Use the built-in microphone and speaker to listen in on what's happening in your home and communicate with family inside.
Arlo Pro cameras are weatherproof and good to use both indoors and outdoors, with 7 days of free cloud recordings. The Arlo Pro also offers a single camera or multicamera system.
The Nest Cam Indoor Security Camera doesn't require any additional hardware like a hub since everything is controlled with the app. It also has a 4 out of 5-star rating on Amazon, with both single camera and multi-camera packs available.
Piper NV Smart Home Security Systempiper-nv-smart-home-security-system-camera
The Piper NV features a 180-degree camera that provides a panoramic view and night vision. It also allows for remote users to pan, tilt and zoom-in on rooms. The camera can send alerts users to any suspicious activity via email, and you can opt to receive text message check-ins. You can also use two-way audio to communicate when you're not home.
The Piper NV camera system has temperature, light and humidity sensors that can alert you of potential dangers in your home. And, the system features a 105 dB siren. The system is available in black or white.
Outdoor cameras
When installing an outdoor surveillance system, consider how much coverage you'll need, how the camera will be mounted, IP rating as well as other important features.
A good outdoor security camera will have a high IP rating and be equipped with night vision, pan/tilt/zoom features, high-quality video resolution, motion sensors, among other features. Your camera may also allow you to access to your outdoor surveillance system from a mobile device to keep tabs on what's happening around your home.
Some of the best outdoor cameras with high IP ratings as well as important safety features include:
Nest Cam outdoor security cameranest-cam-outdoor-security-camera
The Nest Cam outdoor security camera can withstand dust, rain and snow with an IP65 rating. The camera can easily withstand temperatures ranging from -4 degrees to 104 degrees Fahrenheit. It features a straightforward do-it-yourself installation process and weatherproof power cord.
With HD video, Talk and Listen capabilities and night vision, it's one of the best outdoor cameras for functionality. An Amazon best seller with thousands of reviews, it has a 4.5 out of 5-star rating. It's also one of our 25 best outdoor surveillance cameras.
Zmodo Smart Wireless Security Camera Systemzmodo-outdoor-security-system
Because it is weatherproof (IP66-rated), the Zmodo Smart Wireless Security Camera System can be used both indoors and outdoors. It offers several recording modes, such as time scheduled recording, motion detected recording, and alarm triggered recording.
You can also stream video remotely via the mobile Zmodo app and receive intelligent motion alerts on your mobile phone when motion is detected or playback motion videos. The camera also allows you to set a motion detection zone areas you want to be monitored more closely. And, the system is rated at 4 stars on Amazon and includes lifetime US-based tech support.
Canary Flexcanary-flex-outdoor-security-camera
The Flex is Canary's outdoor/indoor security system and offers several ways to customize the camera to suit your outdoor surveillance needs. Completely weatherproof, the Flex can withstand temperatures ranging from -4 to 113 degrees Fahrenheit and has an IP65 rating. It's designed to be used wire-free or plugged in and can be mounted or upright.
Wrap up: 5 security camera installation tips
Whether you're installing a security camera yourself or hiring a professional, you should be proud that you're taking an important step in making your home more secure.
Here are five key tips to install home security cameras:
• Always position outdoor cameras out of reach of intruders.
• Check your outdoor camera's IP rating to ensure it is weatherproof.
• Make sure you have the proper equipment needed if you choose to install a security system yourself.
• Place your indoor security cameras in strategic areas like entryways and rooms with valuables.
• Determine what type of viewing angle you want and the best camera lenses to achieve this.
These tips will help you make the right choices for you and your family. Check out our full range of security cameras.