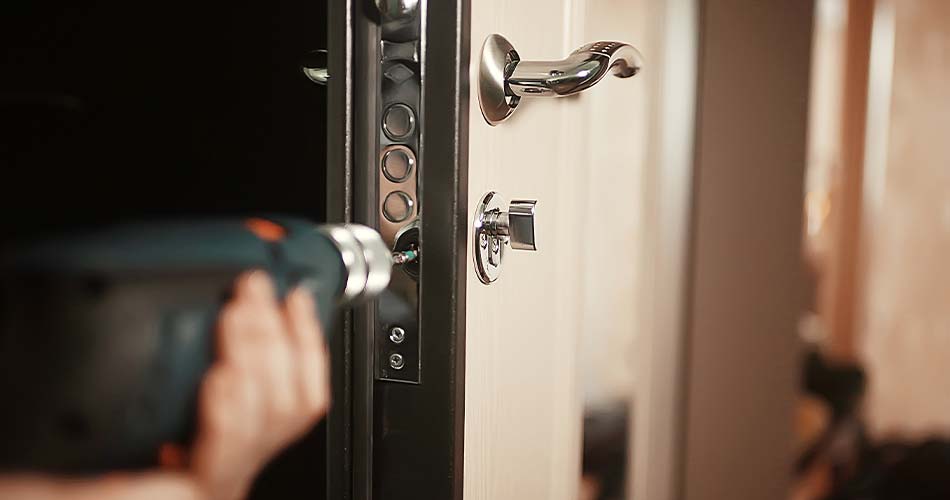 By Staff
Burglars select the easiest target and will simply move on to the next house if confronted with a quality deadbolt. A high quality deadbolt serves as a deterrent. Thieves also look for outside entryways that offer the least chance of being seen. Rear entry doors and doors between attached garages and the home should have the same quality door lock as the front door. These locations often provide cover for the intruder and they should not be overlooked as secondary to the main entrance.
Burglars get around your door lock using several methods:
• Pry open doors
• Kick in doors
• Pry off the lock with pliers or a pipe wrench
• Spread apart the door frame with a spreader bar
• Hammer off the lock
• Pick the lock
• Drill out the lock with a power drill
• Break glass and reach in to unlock the door
• The door was left unlocked
• A key was obtained from a friend or neighbor
• A key was hidden outside the house
When deciding what grade of door lock is best, people turn to experts like local building departments, insurance companies and locksmiths. Many people would assume that, like most parts of their home's construction, the local building department will have regulations dictating minimum standards for quality and security of exterior locks. Surprisingly, most local building codes not only do not set standards for minimum quality, they do not even require a lock on exterior doors.
To insure the most theft-resistant door lock for your home, look for these features:
• Key control means the keys can't be easily copied. While typical keys can be duplicated at a hardware or retail store, key controlled locks can only be duplicated by certain locksmiths or the manufacturer of the lock.
• A deadbolt requires a key to open it. Some keys have two or more grooves, indicating that there are two or more levers in the lock. This makes it harder for a burglar to copy the key and bypass the lock. It's best to choose a deadbolt with seven or more levers, and one that is made of brass or steel.
• Saw-resistant bolts can be found in some deadbolts. There are internal anti-saw pins located inside, so that when a saw is used to try and cut through the deadbolt, the pins spin back and forth with each stroke of the saw blade.
• The anti-drill feature found on some lock sets means there are hardened steel chips inside which hamper attempts at drilling out a lock. These chips, installed by the manufacturer and found within the lock housing, tear up the drill bit as it works on the lock.
• A bolt-assembly protector is like a collar that goes between the cylinder and the bolt assembly of a deadbolt lock. It covers the internal parts and protects the lock from being manipulated with a lock pick
Insurance companies and locksmiths recommend Grade 1 American National Standards Institute (ANSI) designation deadbolt type locks on exterior entryways including exterior doors, the doors between living spaces and attached garages, and garage entrance doors. Many insurance companies recommend ANSI Grade 1 deadbolts even if the garage is not attached to the house. Different types of locks all follow the same ANSI grading system. However, they are not equivalent to each other. An ANSI Grade 1 privacy lock does not provide the same level of protection as an ANSI Grade 1 deadbolt lock.
Typical door locks available as ANSI Grade 1 include mortise locks, heavy-duty mortise, auxiliary deadbolts, cylindrical key and lever locks, and the locks used with electronic access controls. If the door isn't being replaced when the lock is being changed make sure to purchase the same style lock. Different types of door locks require different size holes drilled in the door. A local locksmith will be able to best match the existing hole to the best ANSI Grade 1 door lock available.
Contact Godby Safe & Lock to determine which high quality deadbolt is right for you.