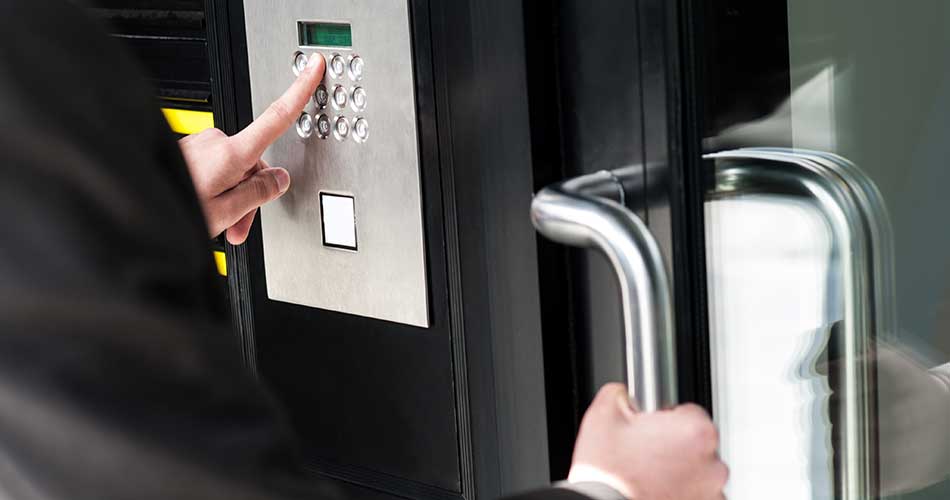 By Ryan Berlin
Door hardware security has become a top priority within commercial and institutional facilities, prompting maintenance and engineering managers to closely follow the latest advances in door hardware designed to enhance the safety of facility occupants and visitors.
"In our fast-changing world, the need for upgraded physical security has been driving significant changes in door hardware," says Gary Agans with Yale Locks and Hardware. "Facilities need to remain secure at all times and only allow authorized personnel entry."
By understanding their facilities' specific door hardware needs and advances in product technology, managers can specify products that contribute to the safety and security of occupants and visitors.
Understanding codes and ratings
When assessing door hardware needs, managers must understand the applicable building code requirements.
"First and foremost, (managers need to consider) compliance to building codes, including fire and panic egress," says Chris Gaughan with Assa Abloy. "Accessibility and compliance to ADA are applicable to a great number of openings, as well. Code compliance can be a difficult and confusing topic. That is why companies offer specification service and guidance on selecting the correct hardware."
Beyond code compliance, hardware grading by the Builders Hardware Manufacturers Association (BHMA) can guide managers on the quality and reliability of door hardware. BHMA product grades range from one through four, with one being the highest. The grades are based on progressive levels of performance benchmarks that include predominant material used, product category, and function of a specific hardware product.
The grades help managers sort through promises related to product performance.
"Be cautious of vague claims, like 'designed to meet,' and use only certified graded products," Gaughan says. "While BHMA grading is important, it is not the whole story of quality and durability setting only the minimum requirements of performance. Many products and manufacturers conduct above-and-beyond testing to demonstrate differentiation beyond Grade 1."
When specifying door hardware, managers should consider more than just equipment grades. Budgets should also factor into purchasing decisions.
"Find the right solution for your needs and budget," Agans says. "Don't let convenience overcome your need for security. Design your system based on the functionality of your facility. This will drive the decision as to who gets access to what and where.
"Work with industry professionals in your area to develop an access control system that is right for your building. Include the door hardware distributor and manufacturer, along with an integrator, to develop your system. By working together upfront, you will have an easier process of installing and commissioning the door hardware along with operating the system on the back end."
We offer ADA compliant door hardware. Contact us to talk about bringing your facility up to code.