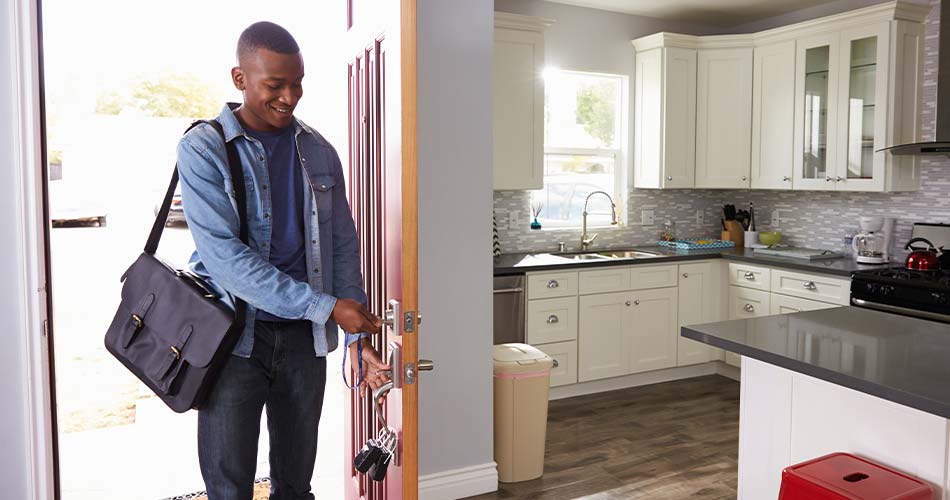 By Street Directory
All homes have entrance doors, or at least those in the Western style do. The front door serves as the entryway to your private residence, whether an apartment or a house. Although we expect legitimate guests, invited or otherwise, to enter via the door by permission from the owners, burglars or criminals may attempt entry through windows or breaking through the door. That's why it is important to make sure your are on top of your front door security because it will protect your family during rough weather or from unscrupulous prowlers.
First, occasionally check the door's fit to make sure the bolt snuggles into the latch to prevent anyone from wedging a card or tool between the two to force the door open. Does the latch hold, or does it allow the lock to be jimmied? Does the bolt stick? Or does it jiggle in a loose way, providing opportunities for a burglar to rifle the lock and break into the house? If you don't have a deadbolt, should you get one installed? Is the doorknob on both sides secure and stable? Does it need to be tightened? Does the keyhole need to be cleaned of dust or oiled for easier use? These are all tips that will help your front door security.
Next, inspect the hinges to ensure they are not rusting or wriggling loose. Check the weather stripping around the door's frame to see if it needs to be replaced in keeping out dampness and cold air. Is the wood frame in good condition, or is it starting to warp or fray? Should it be treated to prevent mold or fungal growth? Are there any decayed areas that should be repaired or replaced? Has the frame been loosened by anyone trying to break in previously, or from age or misuse? Does it need to be secured anywhere?
Then, check your windows or peephole to make sure they work as they should. Does your peephole let you clearly see the face or form of anyone standing on the other side of the door? Is it too small to be effective, or so large that it lets visitors peek in at you? Has it become obscured by dust or cracking, and thus need to be replaced? Are your door windows secured firmly in place? Do they rattle? Are they cracked? Are they large enough so that someone could break one, reach in a hand to unlock the bolt, and then enter by stealth or force? Are the windows weather-resistant? Does moisture become trapped inside? Are they cracked? Are they covered adequately at night to prevent peepers from looking inside your home?
Check for any cracks, fissures, or broken areas where insects can get inside. Make needed repairs at least once a year to keep your door in solid operating condition. Don't let pet dogs or cats scratch at your front door to be let in or out. Teach your children how to open and close the door with respect to avoid damaging it. These tips for front door security will keep your family safe. With proper use and care, your door should last a long time.
Contact us today to find out if your front door security is current.