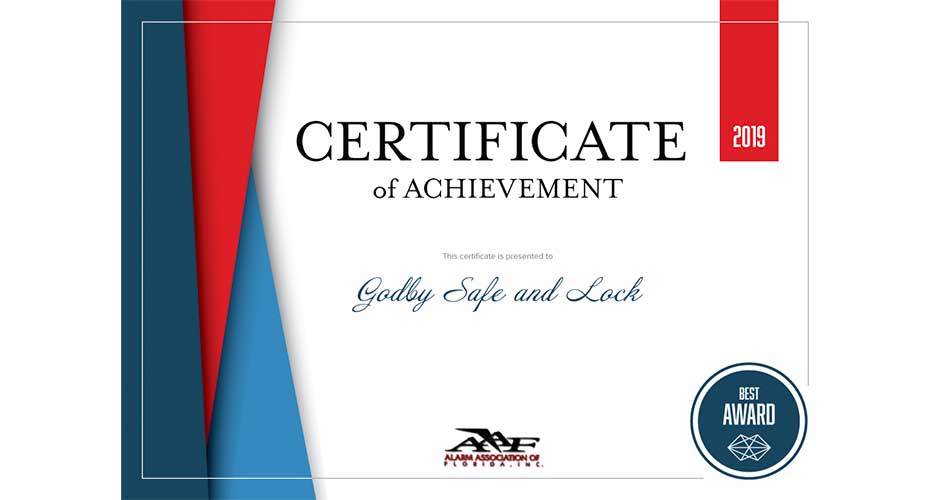 By Staff
You wouldn't hire a doctor without a medical degree or one who isn't up to date on recent medical breakthroughs and best practices, so why make that mistake with your security firm?
When choosing a security vendor or locksmith company, you should choose the option that is licensed, certified and up to date with the new technology and best practices of the industry. At Godby Safe & Lock, we take all of these things seriously. Our technicians are always learning, both in the field and in the classroom. In fact, our owner Troy and some of our techs recently renewed and increased their certifications and credentials as fire alarm system agents (FASA) and burglar alarm system agents (BASA) with the Alarm Association of Florida, Inc.
The Alarm Association of Florida Inc (AAF) operates as a nonprofit organization. AAF advocates for the alarm and low voltage industry in the state of Florida. They usually host conventions and trade shows, educational and training programs, and distribute useful industry newsletters. Their continuing education courses and member benefits out shine all other national industry associations which is why we align ourselves with them.
Godby Safe & Lock is committed to finding better ways to serve you, our valued clients. For over 50 years, we have led the way in quality and dependable locksmith and security services across South Florida.We are licensed and insured and have accumulated an array of accreditations, all of which support our mission to ensure you receive quality locksmith & security services.
We recognize that regulations and technology within the industry are constantly changing and improving so in our attempt to keep up to date we constantly seek to add new credentials and certifications to our name as well as keep the ones we do have updated.
We invite you to Contact Us to help provide peace of mind for you, your family and your business.