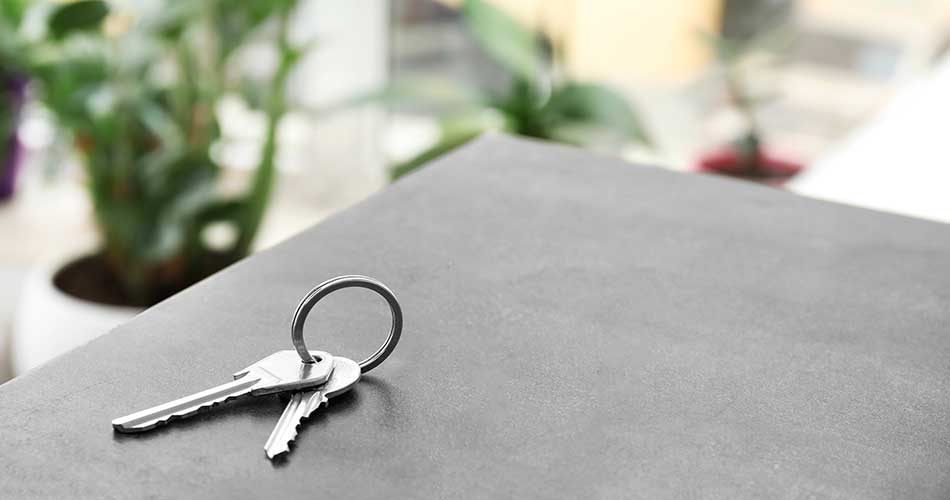 By Ashley Gebert
You're locked out of your house. Of course, you don't realize the key isn't in your hand until after the door shuts behind you. You remember leaving your keys on the kitchen counter, but that certainly doesn't help you now. So, what do you do?
Luckily, a few options will allow you to break into your own house without arousing suspicion or damaging anything important. Simply follow these tips, and when you've finally crossed the threshold, don't forget to take necessary measures to prevent any future lockouts.
Use a Credit Card to Unlock Standard Spring Locks
If your door is locked with a standard spring lock (not a deadbolt), you can try using a credit card to get through. Take an unimportant credit card you never use and slip it into the crack between the door and the frame where you know the lock is. Push the card in as far as it will go then bend it away from the door. For the right types of spring locks, the door should open easily.
Shimmy through an Unlocked Window
If the credit card trick doesn't work on your lock, move around the house to check for unlocked windows. Even if you think all of the windows are locked, you may be surprised by one that is not or is just a little loose. Don't break a window if you can't find an unlocked on because this could cause your neighbors to call the police. And obviously, it will destroy your window, costing you a pretty penny to replace. Instead, try a different method listed below.
Ask Neighbors for Help
When locked out of your house, it's very unlikely that you'll miraculously have a professional lock-picking set in your pocket. However, a neighbor might have one, or they might at least surprise you with a few tips of their own for getting through a locked door. Don't forget to thank them with some offered service in return if their methods work.
Call the Locksmith
If none of the tips above get you through that door, then call the locksmith. Their services can get pretty pricey, even costing up to a few hundred dollars if you lost your key entirely and a replacement is difficult to make. However, despite the price, a locksmith will get through, and this is certainly a better option than being stuck on the wrong side of your front door for an extended period of time.
Prevent Future Lockouts
Prepare for the future by taking some preventative measures as soon as you move into a new house. A lockout can happen at the worst times: right before an important business meeting, on your way to a child's birth, or even on your way to help someone who is injured. By following the tips below, you can save yourself from losing precious time and even money in the event of an untimely lockout.
Give a Neighbor or Nearby Relative a Copy of Your Key
First of all, give a copy of your key to a trusted neighbor or nearby relative. When locked out, you can easily call on your neighbor or relative to open your door in a matter of minutes with their copy. In return, you may offer to carry a copy of their house key in the event they are locked out instead.
Hide a Copy of Your Key around Your Yard
If you don't trust your neighbors or simply want another backup method, you can hide a copy of your key where absolutely no one but you will find it. Be aware that burglars know to check under your doormat or in a pretend rock for a spare key, so consider hiding your key somewhere a little more creative. Plenty of small DIY projects online explain perfect spaces to hide your key. Another location to consider is your workplace. While it may not always be feasible to access your workplace when you'd need that key most, it's still a viable backup plan.
Install a Keyless Lock on Your Door
With ever-growing technology and security, you can now easily install a keyless lock on your door that will ensure you're never locked out again. Many electronic locks are available at hardware stores for affordable prices and installation, and some security companies even allow you to access any home lock from your smartphone. This home adjustment could give you a big jump on the newest security, and it's never a bad idea to set yourself up for success.