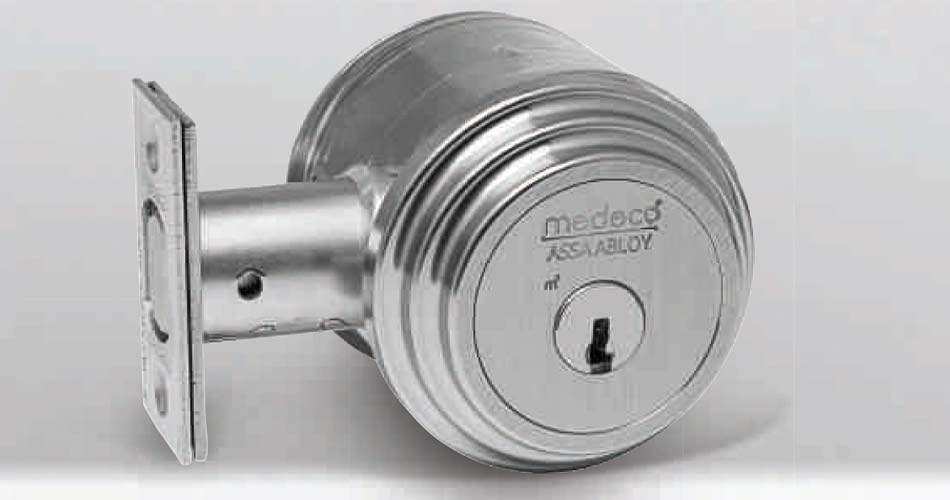 Locks manufactured by Medeco Security Locks, Inc. are perhaps the most well known high-security mechanical locks in United States. Also Medeco locks are most recommended by security and police personals.
Medeco Locking Principle
Medeco High Security Locks (10- through 50-series locks) incorporate the basic principles of a standard pin tumbler cylinder lock mechanism. The pin must be elevated by the cuts or bitting of the key. This first element is normally the only security afforded a cylinder in a standard commercial or residential lockset. The second element of Medeco's double locking mechanism is a sidebar that requires pin tumblers to be rotated and elevated by the unique angular cuts on the key. This rotation aligns a slot in each pin tumbler. When the pin tumblers have been properly elevated and rotated, the "fingers" or projections on the sidebar may now enter the pin tumbler slots. Inserting the proper key releases the locking mechanisms to activate the lockset.
Medeco cylinders are also protected by hardened, drill-resistant inserts against other forms of physical attack. There are two hardened, crescent shaped plates within the shell that protect the shear line and the side bar from drilling attempts. There are also hardened rods within the face of the plug and a ball bearing in the front of the sidebar.
The unique double locking mechanism makes Medeco cylinders very difficult to pick. For additional security Medeco cylinders are equipped with hardened steel inserts that protect strategic areas of the cylinder from drilling and surreptitious entry. Anti drill rods surround the keyway and hardened inserts protect the shear line and sidebar areas of the cylinders.
Medeco offers a variety of products that includes Deadbolts, Mortise locks, padlocks and key knob locks. Below are some of the Medeco locks which are high security door locks:
• Medeco Deadbolts
• Medeco Mortise Cylinders
• Medeco Key in Lever/Knob
• Medeco Padlocks
• ASSA Twin 6000 Classic High Security Deadbolt
Do you need a more secure key-and-lock system? Here at Godby Safe & Lock, we install Medeco High Security Locks. Medeco creates their locks and keys to work against drills and picks used by common criminals.
Medeco locks are now made to prevent key bumping, making them a top option for locksmiths. Medeco locks use the latest technology to prevent the problem of key duplicating and ensure that your home security system is safe.
Increase your home's security and give us a call today. Our trained professionals are ready to help. Contact us for more information on Medeco High Security Locks.