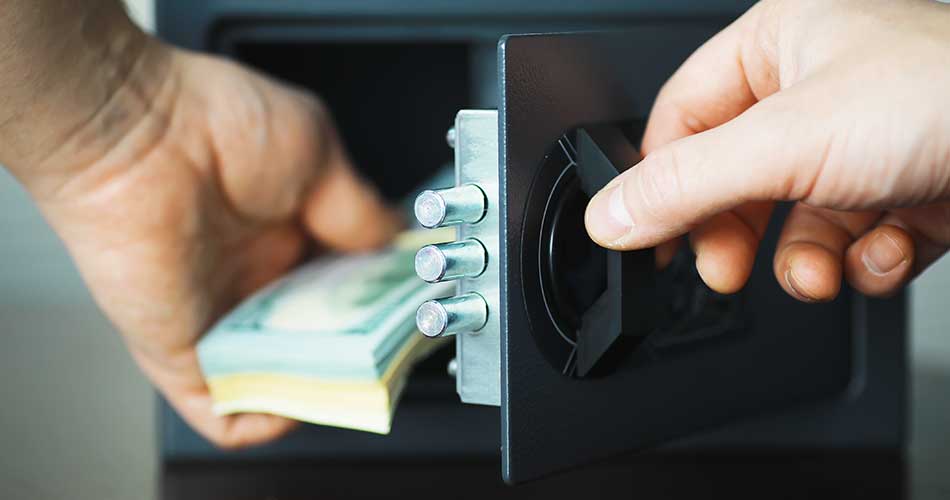 By Charles Passy
When Carlos Felipe decided to shop for the ultimate night's sleep, he headed to the New Jersey showroom of Hollandia, an Israeli manufacturer that creates custom beds running as much as $35,000. And sure enough, Felipe, a sales representative, found plenty of appealing features and options, from the adjustable bed frame powered by German-made motors to the hypoallergenic, antimicrobial latex mattress (the cover is "treated with aloe vera for a soft feel," Hollandia boasts). But the accessory that most caught Felipe's eye was designed to help him rest easy in a different way. It was a small safe, good for holding a few valuables or gold coins, ingeniously built into the base of a bed — a modern-day answer to the idea of stashing your savings under a mattress. A duly impressed Felipe plans on using it to store his wife's jewelry and some extra cash: After all, he asks, what thief would look for such valuables in the frame of the bed itself?
Why Hiding Money From Your Spouse Has Gotten Harder
In an era marked by financial turbulence, it's probably not surprising that safes have become a popular commodity, with some manufacturers, retailers and installers reporting sales increases of as much as 40 percent from a few years ago. But the bigger eyebrow-raiser is what has happened to those iconic gray-steel boxes of yore: They've undergone an extreme makeover — or several of them. Taking the place of those old square combination jobs are a range of custom safes, from boutique showpieces to decoy models for the family den — not to mention the truly offbeat (a hideaway lockbox resembling, ahem, a pair of men's underwear) and the seriously safe (an in-home vault with a price tag of more than $100,000). And that's not even getting into the ever-broadening array of color choices (champagne marble, anyone?) "None of our safes should be hidden in a closet," says Markus Dottling, principal at Dottling, a German specialty-safe manufacturer whose museum-worthy designs can cost more than the average American house.
One thing that isn't driving the safe boom, apparently, is crime. Indeed, U.S. burglary rates have been plunging for years. Still, experts say that many savers and investors feel a lingering sense of insecurity in their finances — a hard-to-shake fear borne out of the jolting recession and, at times, wobbly recovery — which is helping to spur the new safeguarding mentality. Tyler D. Nunnally, founder and CEO of Upside Risk, an Atlanta firm that researches investor psychology, says sticking tangible assets in a safe can be a natural reaction to volatility in the markets. "People dislike loss twice as much as they like gains," he says. "They want to protect what they have." Growing numbers of these fearful types simply don't trust their banks to protect them: In a Gallup poll last year, a record-high 36 percent of Americans said they had "very little" or "no" confidence in U.S. banks. (In 2008 and 2009, when the financial crisis was peaking, that figure stood at 22 and 29 percent, respectively.) And growing concern about identity theft has made some people more eager to keep their assets in a form they can see and count, says R. Brent Lang, an investment manager in Surrey, British Columbia: "By acquiring one password, someone can wipe out all your digital wealth," he says.
Still, it says something about the resilience of the American consumer's mentality that even when purchasing an item associated with all sorts of negatives (theft, fire, global economic collapse), more buyers are demanding products with a little flair. "When somebody is building a $100,000 custom closet, they don't want a safe that looks like it belongs in the back of a delicatessen," says Robert Tompkin, president of Prestige Safe, a high-end New York manufacturer. That sentiment has fed the growth of an incongruous industry, where financial paranoia meets a willingness to pursue a little luxury. When firearms collector Gary Hansen looked for a safe to store his $100,000 trove of rifles and pistols, he found out he could customize the interior so that his wife could also use it to store her jewelry — in velour-covered drawers, no less. The cost? Around $7,500, but Hansen says the his-and-hers combo saved him from a lot of squabbling. "I knew it couldn't just be a safe for 'Gary's guns,'" he says.
If there's an irony to this safety seeking, it's that the trend makes the stewards of most people's money — their financial advisers — throw up their hands in frustration. "It's all based on fear and the failure to look long-term," says Mark Matson, founder and chief executive of the Cincinnati investment firm that bears his name. Matson and others find themselves stating the obvious: You can't earn anything on a $100 bill that's sitting in storage. Even advisers who are bullish on gold generally don't like bullion or jewelry because it represents the commodity in its most illiquid form; it will take at least a trip or two to the local pawnshop or jeweler to cash in those coins and bracelets. Finally, when you put your savings in a safe, you can forget about collecting insurance from the Federal Deposit Insurance Corp. if it actually does get stolen.
The safe industry doesn't take exception to arguments like these — but theirs is not to question the logic of their growing customer base. For the market in general, the sweet spot remains what you find at the local Home Depot or Wal-Mart: plain combo-lock safes that sell for as little as $50. But even in this broader segment, there's room for innovation and styling. For example, SentrySafe, the nation's category leader, has rolled out a line of pink safes in support of breast-cancer research. The company has just come off the best year in its eight-decade history, with the help of products like these and customers like Jessica Savage, an advertising executive in Rochester, N.Y. Last November, Savage bought two of the pink safes at a charity event. Her 5- and 6-year-old daughters are fanatical about the color, she explains, and she thought the safes would be a good place to store the girls' papers, such as birth certificates and passports, along with keepsakes. "I call them treasure boxes," she says.
The more valuable the treasure, the more complicated the box. For Richard Krasilovsky, owner of Empire Safe, a New York retailer that's been in business for more than a century, that means an emphasis on customization: A safe can be designed to fit into any space — beneath a staircase, inside a closet — with appropriate finishes and fronts (say, European ash burl wood), and interiors can be crafted to suit the needs of the buyer. There's also a steady market for James Bond–worthy "diversion" or "decoy" safes — like those fronted by bookcases or curio cabinets. Customization has its costs, certainly. Krasilovsky says a job can run $3,000 and up — way up, especially for the small coterie of customers who want a safe that can stand front and center as an objet d'art. Need a secure place to store your cigars? Dottling, the German manufacturer, suggests its $23,000 Colosimo safe, a tabletop model that's billed as "the smallest high-security safe in the world." "It's a toy for big boys," says owner Markus Dottling.
Pessimists like precious metals collector Don Magnus, though, aren't looking for toys; they want their safes to be simple, bulky and Armageddon-ready. "I'm worried about the banks crashing," says Magnus, who's keeping his stash of gold and silver bullion in a $200 home safe, bolted to the concrete floor of his basement. By his estimate, gold will climb to $5,000 an ounce, and in a financial panic, consumers won't get access to their bank accounts for a "long period of time, if ever." After a nasty one-two punch in recent years — a bad hurricane near his home, then the financial crisis — North Carolina contractor Pat Brabble spent $9,500 on two plain but very large safes, including one "you could fit five people in," he says. The safes hold gold, silver and cash totaling about $7,000 in value, Brabble says. He's also holding on to about 50 bottles of Jack Daniels. "I don't drink," he says, but "if things do fall apart, I've got something I can trade with."
For their part, security experts say that a more expensive or elaborate safe is not necessarily a safer safe. Most take a dim view when it comes to "diversion" concepts, because they often rely more on trickery than on, say, state-of-the-art locks. "You don't replace security by obscurity," says Christopher Falkenberg, president of Insite Advanced Security Management in New York. Antique safes — a hot-selling category — pose a different issue in that they tend to be built less sturdily than high-end safes today. Guy Zani Jr., an antique safe collector and dealer in New Port Richey, Fla., who owns about 100 safes, notes that some highly prized 19th-century safes are made with wood. "You could take a fire ax and go right through the side," he says.
But modern safes have their own issues as well: For example, custom or other small-production safes often reach the market without undergoing the rigorous testing for theft and fire common to off-the-shelf models. At the same time, ratings pose other problems. Retailers say they confuse many buyers, who fail to understand that just because a safe is rated for fire, it doesn't mean it's theft-proof, and vice versa. Underwriters Laboratories, a certification group that rates safes for fire and theft protection, agrees there's a degree of misunderstanding: "People think a safe is a safe," says John Drengenberg, the group's consumer-safety director. And even a top-rated safe isn't impenetrable. As the ratings imply, all a better safe does is buy more time — whether it's time in a fire or time at the mercy of a burglar with a crowbar.
That said, the pros in the field generally agree that you're better off safe than sorry — and that many folks are more likely to use a safe if it's attractive. Which is precisely the way Zani, the safe collector and dealer, feels about the vault in which he stores his "mad money" (about equal to a house payment or two). It's a safe he considers a true work of art: an 1867 model with a hand-painted exterior covered in 22-karat gold leaf. Zani estimates the safe is worth $10,000. But it's also a mini-fortress, protecting his stuff behind nine layers of steel plate. (The door alone weighs 500 pounds.) "It's the difference," he says, "between buying a Lexus and buying a Dodge Dart."