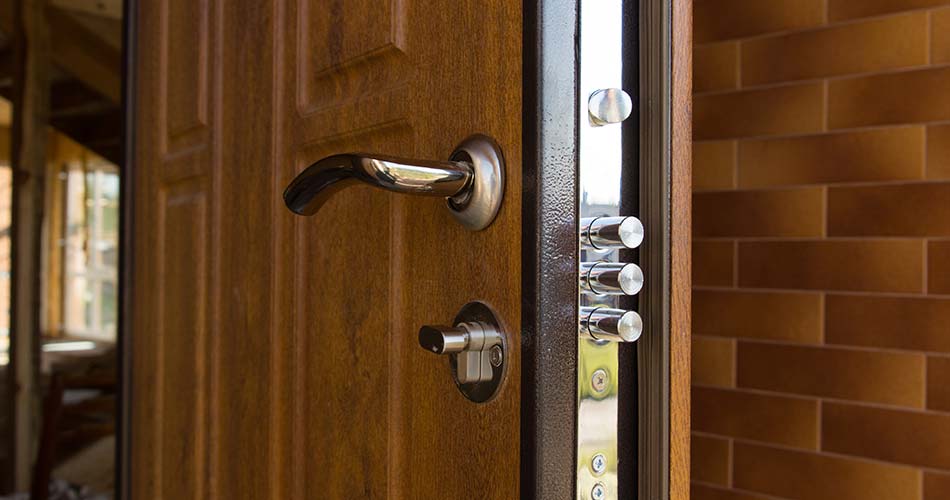 By Street Directory
Ideally, outside doors are safest when fitted with a five-lever mortise door locks (Kitemarked BS3621). If your door does not already have one of these then they are readily available from DIY shops. When purchasing one, make sure to look for the British Standard Kite Mark, and avoid cheaper imitations as these will be unreliable.
The most important tip when it comes to doors is to always make sure that doors are kept locked when not in use or when you are out. Use all the locks that are present on your door as often one lock is not enough to secure your property. By making use of all available locks then you are taking an important step in stopping a burglar from gaining access to your property.
When checking the doors, the first thing to check is that they are strong and secure. If you have a wooden door and frame then make sure that both are free from rot and deterioration. Doors should ideally be made of good solid construction with a recommended thickness of 44mm – just short of two inches.
Should your door not be thick enough for a five-lever mortise door locks then you should look for a high security rim deadlock also carrying the British Standard BS3621.
Make sure all the hinges and joints are fixed correctly with good long screws. You can also fit hinge bolts, and steel strips and plates to the hinges, lock and door frame to reinforce them against a forced entry.
More door security tips are when replacing a door, take the opportunity to improve your security by installing a door that is certified to British Standard PAS 24-1 "Doors of Enhanced Security" and consider a fiberglass door rather than a timber door.
Glass panels on and around doors are particularly vulnerable and burglars can smash these to gain entry or to open a lock. Having a five-lever mortise deadlock will stop this as you need a key to open it from both sides once it is locked. If you do have glass panels consider replacing them with laminated glass which is much stronger than normal glass. Where this is not possible, you can buy a special film which you can attach to the glass and it does the same job.
For added security you can also get extra bolts, a chain and view finder which can be used when you are inside the house. These can be used at night to help reinforce the strength of the door. The chain and viewfinder should be used to check who is at the door, especially when the call is unexpected. Keep the chain attached until you are sure that the person who is calling is genuine.
Finally, for all the added security features and locks you can have attached to your doors, they are useless unless you use them. Although it may be time consuming and mundane to make sure that all the locks are used, even if only popping out for five minutes, the extra security these locks give you could be the difference between your house being burgled and not being burgled.