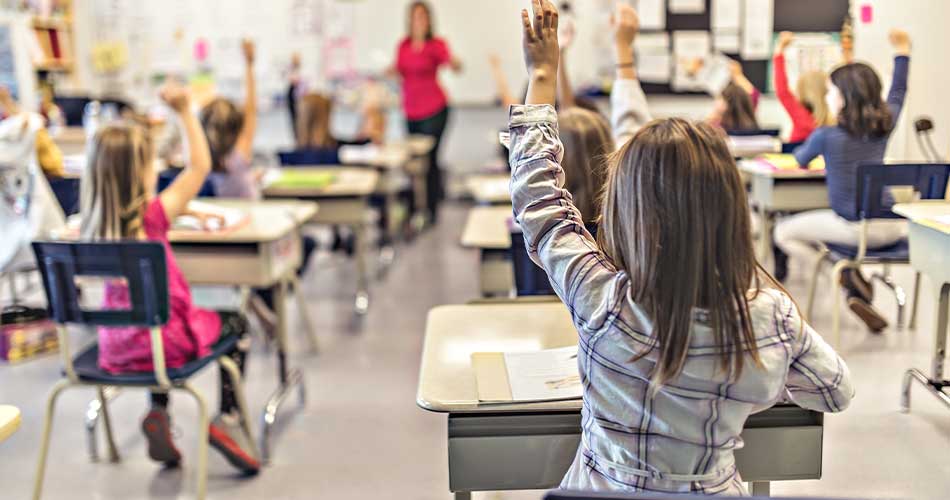 By Tiffany Hsu
Threat Of Shootings Turns School Security Into A Growth Industry
The best way to shield a school from a gunman is to have a metal detector. Or doors that can be remotely locked. Or Twitter-trawling bots looking for threats. Or bulletproof clipboards, whiteboards and backpacks.
So says the fast-growing group of companies that sell school safety equipment. They have ramped up their marketing to school safety officials in the wake of the shooting last month at a high school in Parkland, Fla. But even as school districts rethink their security and seek to increase their budgets, they have little guidance from government agencies or independent consumer groups on which equipment would actually protect their students.
Lawrence Leon, the chief of school police at the Palm Beach County school district in Florida, said he had received thousands of emailed pitches since the Parkland shooting. He said, "I've seen everything from door locks to apps to analytics to metal detectors, and I haven't even gone through all of them yet."
Schools were generally considered a safe haven from the outside world until 1999 when two students at Columbine High School in Colorado massacred a dozen students and a teacher. In late 2012, a gunman killed 20 first-graders and six adults at Sandy Hook Elementary School in Connecticut. Since then, more than 400 people have been shot in schools nationwide.
Campus security has become a growth market.
Last year, sales of security equipment and services to the education sector reached $2.7 billion, up from $2.5 billion in 2015, according to data from IHS Markit. After the Parkland shooting, demand is surging.
"Right now, there's going to be a lot of appropriations dollars being sent to school districts without a lot of oversight," said Curtis S. Lavarello, executive director of the School Safety Advocacy Council, a training provider. "There are no national standards in terms of products for school safety."
Each July, the group holds a conference and expo about school safety that normally draws about 80 exhibitors and 700 guests. This year, after Parkland, registration is on track to exceed 120 companies and 1,000 visitors.
The annual school safety conference hosted by the National Association of School Resource Officers drew 622 participants in 2011, then 733 in 2014 and 923 last year.
Security options are manifold: palm scanners, mobile barricades, heat detectors, walkie-talkies, trauma kits, active shooter resistance training and more. In the fall, Florida Christian School in Miami began selling $120 ballistic panels for students to put in their backpacks. At a gun show in Tampa, Fla., last weekend, administrators and parents swarmed a booth offering similar panels for nearly $200 each.
The civilian body armor market was valued at $72.2 million in 2016 and is expected to more than double by 2024, according to Grand View Research. Richard Soloway, the chief executive of Napco Security Technologies, which makes safety software systems, said in an investor call on Feb. 5 that campus safety was a "significant opportunity."
The vast and expanding array of security products can confuse school officials, said Stacie Dinse, the marketing director of Rauland, which has provided communications systems to schools for more than 75 years.
"Twenty years ago, school safety and security needs revolved around student fights, vandalism, weather-related emergencies and health-related emergencies such as a student asthma attack," she said. "Today, there is much more focus on solutions to address emergency response and violence in their schools."
New companies are being formed to take advantage of the growing demand, people in the industry said. Businesses that had offered visitor management services and gunshot recognition software to hospitals and stadiums are now focusing more on schools. Military and law enforcement consultants are adding principals and superintendents to their rosters.
But Heather L. Schwartz, who has studied safety technology for the RAND Corporation, said that research into what actually works is "really thin."
"There's not a lot of evidence to help districts sort through the pile before investing in costly systems," she said. "There's a lot of hunger for some authoritative third-party source to go out and review these options."
Often, schools react reflexively after high-profile school shootings, snapping up technologies and services as a symbolic gesture, Mr. Lavarello said.
"Right now, you feel sorry for these kids who have lost their lives, and you're searching for something fast, anything," he said. "The principal wants to tell the parents, 'Look, I have metal detectors and armed guards.'"
But products like a folding shield with straps called the Bodyguard Blanket and a remote-controlled pepper spray system are often far from infallible, Mr. Lavarello said.
He said his team had recently conducted a safety assessment at a school near Denver that had spent $600,000 fitting every window on campus with bulletproof film. Administrators had not realized that the film would prevent students trapped inside from breaking the glass to escape in an emergency.
Advocacy groups focused on school safety, many of them founded by relatives of shooting victims, increasingly try to offer guidance to school administrators in the form of checklists and updates on local programs. The National Institute of Justice, a government agency, administers a program to test the effectiveness of commercially available body armor.
Erroll G. Southers, a public policy professor and the director of the Safe Communities Institute at the University of Southern California, said that all schools should at a minimum have their campuses assessed for safety risks.
He even proposed that insurance companies reward schools that do safety assessments with a reduced premium.
"Schools should be treated like critical infrastructure," he said.
Some campuses are starting to rely on outside help, taking donations from families, neighborhood businesses and local rotary clubs. One company pledged to donate proceeds from its bulletproof backpacks to Parkland victims and their families.
Several bills seeking to fund school safety efforts are currently winding their way through Congress.
Sandy Hook was rebuilt in 2016 using a $50 million gift from the state of Connecticut. It has bullet-resistant windows adjacent to classroom doors, reinforced interior walls and landscaping that serves as a barrier outside the building. Other schools have raised money by issuing bonds and, in the case of Terry Shaw, the superintendent of the school district in Healdton, Okla., running a marathon to earn sponsorships from businesses.
Mr. Shaw's district, in the heart of tornado country, initially spent more than $100,000 installing seven shelters in the elementary school to protect students from windstorms.
Last year, two more shelters were added to the middle school, where they are meant to double as hide-outs if there is a shooting. The district website links to a video in which Mr. Shaw tests a shelter by sitting inside while its exterior is pummeled by semiautomatic gunfire and explosives.
"We're left making those critical decisions on how best to protect our students," he said. "Each school district's different, and there are so many issues you start getting into that it's hard to have a single set of guidelines."
A few days after the shooting in Parkland, school officials one county over, in Miami-Dade, drew up a long wish list of campus security measures.
The school district, the fourth largest in the country, currently receives $9.5 million from Florida to keep its campuses safe. But now the superintendent, school board chairwoman, mayor and other leaders are asking for an additional $30 million for "qualified human resources, artificial intelligence and technology-based strategies," according to a letter sent to state lawmakers last month.
Miami-Dade's plan includes video surveillance networks, automatically locking doors, digital floor plans, broad mass communications systems and ballistics-resistant windows. The county also wants more school resources officers and mental health services.
On Tuesday, Gov. Rick Scott of Florida, a Republican, spoke to reporters about the need to fund school safety programs.
"We've got to invest in metal detectors, we've got to invest in bulletproof glass, we've got to invest in steel doors, we've got to invest in upgraded locks," he said. "We've got to do everything we can to make sure that somebody that wants to harm any one of our students can never do it again."