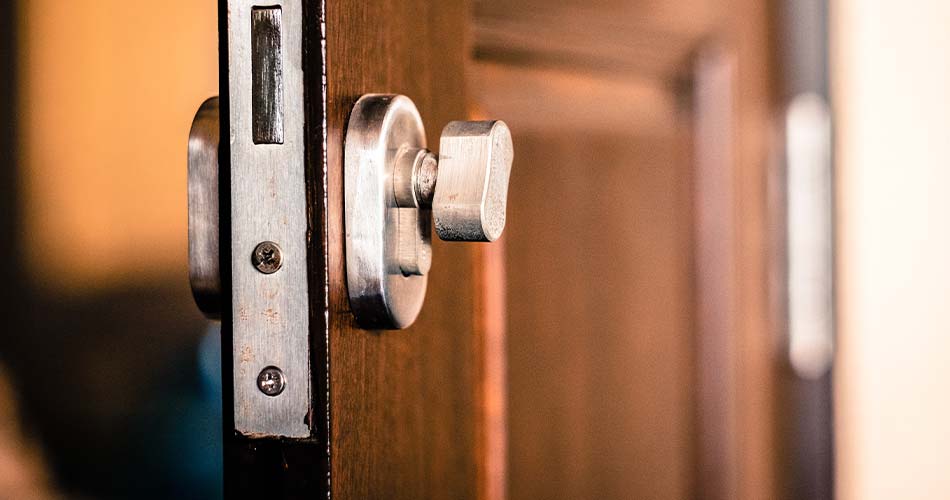 Where to Find a Keyless Entry Deadbolt
A keyless entry deadbolt lock makes your home much safer while saving you both money and time lost on replacement keys. A vast range of suppliers offer keyless entry door lock styles. Here are some suggestions about where to find keyless locks for your home.
Consider Your Security Needs and Budget
If you have several entries to your home plus a garage, you might want to consider a biometric type of keyless entry deadbolt lock. These have no combinations to remember, and the fingerprints of your family members cannot be duplicated in any material. For a home with only one or two keyed entries, a mechanical or digital keyless entry will probably suffice. Many types of keyless entry locks are now available for close to $100. Watch out, U.S. Locks that are cheaper than this may not be weather-resistant, or may just serve as backup to a key lock, which means they are still subject to tampering.
Lock Manufacturers
All leading lock manufacturers around the world now make and sell keyless entry deadbolt locks. Most keyless door locks that use a pushbutton or digital system are an effective deterrent to thieves who cannot use lock picking or lock bumping techniques to break into your home. Some makers provide online tutorials and technical support to show you how to install the keyless entry lock yourself.
Locksmiths
Check with locksmiths in your area to find out which keyless entry deadbolt locks they carry. Some locksmiths specialize in certain brands because they trust their reliability. Others carry a wide range to serve their customers at every price point.
Door Manufacturers
Many makers of fine-quality home entry doors now offer keyless entry deadbolt locks as part of their value-added sales and service. They will come to your home, install the new door and the new lock, and offer you a warranty on both.
Hardware and Building Supply Stores
These are the most traditional outlets in which people buy door locks and home security devices. The large national chains carry a wide selection of keyless entry door locks by global manufacturers, and may add their own warranty to the maker's.
Online
Visit online retailers who offer reviews of several products by many makers. These will help you decide on the type and quality of lock you want to buy, and you may get a great value by purchasing online.
Many manufacturers will also sell direct to customers online. You can find the latest models this way, and possibly get a big discount on still-reliable models that have been replaced by newer upgrades. Manufacturers sometimes offer customers longer-term warranties when they buy direct online.
When looking for a keyless entry deadbolt lock, shop around and compare all the features, including the cost of installation and post-purchase service. Invest the money to have the lock installed properly by a qualified locksmith, familiar with the manufacturer's product. The security of your family and property justifies this minimal extra cost.
General Tools Needed to Install a Deadbolt Lock
The general tools needed to install a deadbolt lock are a combination square, a drill with assorted bits and a hammer and chisel. Installing this type of lock is easily done with patience, and will give you a satisfying, secure feeling once you send that bolt home for the night. The total job should take no more than one or one and a half hours at the most.
Instructions
Deadbolt locks come with precise instructions, measurement diagrams and several parts and screws. Before doing anything else, read the directions thoroughly. Make sure you understand how the lock fits into the door, how the bolt fits into the lock and generally how things go together. To facilitate installation your deadbolt will come with a template so you can easily drill the required holes for its installation.
Installation
Affix the template to the face of the door(where the doorknobs are located) and outline where to drill the holes required for installation of the deadbolt cylinder. Use a combination square frequently to ensure that all your holes are level and centered on the door and door jamb. Before drilling your hole, place a piece of scrap wood on the other side of the door, clamp it tightly and drill your hole. This scrap wood will allow you to drill a clean hole through the door without the drill bit causing splinters when it emerges from the other side.
Next, again following directions carefully, drill a smaller hole through the edge of the door towards the hole that went through the face of the door. This hole needs to be level, as it must allow the locking bolt to move freely through the wood of the horizontal hole and into the locking cylinder. At this point it would be good to "dry fit" the cylinder and locking bolt so that you can align and affix the strike plate into which the locking bolt will fit when you lock the door. Use the hammer and chisel to chop out wood from the door jamb and screw in the strike plate. When you are satisfied that the locking bolt will easily fit into the striking plate, you will have to drill, or chisel away the wood inside the strike plate to facilitate the bolt being able to pass through it into the door jamb.
Final Notes
Before final assembly be sure to lightly oil all moving parts. Begin final assembly by making sure the cylinder with the keyhole is on the outside of the door and the cylinder with the latch is on the inside (this won't matter if your lock has keyholes on both sides). Next, make sure the locking bolt that has the rounded side faces in and the flat side faces out. Screw the two large screws that go through the locking bolt into the outer cylinder and screw the locking bolt face frame into the edge of the door. The final step is to insert your key into the cylinder, turn it and send the locking bolt home. Everything should line up and work smoothly.
You can purchase a digital deadbolt lock in any of three styles: pushbutton combination locks, remote electronic signal locks or biometric fingerprint-coded locks. All of these work effectively with other home security system components to provide complete protection for your home and family. Read on to learn about how a digital deadbolt lock works.
Digital Deadbolt Lock Parts
A digital deadbolt lock is made up of an external keypad or pressure sensor. This may operate on batteries or another electricity source, or it may be purely mechanical. A standard format deadbolt lock is fitted into the door itself and into the door frame. On the inner face of the door is a lever or turn handle that releases the deadbolt from inside the house.
How These Components Work Together
A digital deadbolt lock with a mechanical keypad works as follows. Set a combination from 10,000 or more possible choices and key it into the keypad. When you are outside with the door locked, pressing the number combination will lift a series of tumblers to release the deadbolt lock. The combination also serves to engage the deadbolt when you leave the house.
You can set an electronic keypad digital lock in the same way that you set a mechanical digital lock. The electronic keypad offers added security features such as an alarm that will sound after 4 incorrect tries of the numerical password. Distinct audio tones also signal you when the door unlocks successfully, when the batteries are low and when the door lock is jammed.
Biometric Locks
These digital locks are keyed to your fingerprint and those of a few family members. The pressure sensor reads the correct fingerprint and sends an electronic signal to the door lock to release. When the door is locked, a corresponding signal from the fingerprint will unlatch the lock.
Remote Access Locks
These locks are very helpful for people with disabilities who need to maneuver a wheelchair or other mobility assist device through the doorway. The door can be disengaged and ready to swing open when they reach it. You can choose either a radio-frequency or an infrared remote device, both of which can protect against tampering. The lock is programmable with one push button. The remote device will emit different audio tones that signify lock, unlock, low batteries and a jammed lock. Since some of these locks still can be engaged and unlocked with a key, the possibility of tampering still exists through lock bumping.
Other Uses for Digital Deadbolt Locks
This type of lock can be fitted to create a security door for a medicine cabinet, a gun chest, or even your home office. It will keep medications, valuables, dangerous items, and personal papers. Digital locks can protect your family inside the home as well as keeping intruders out of your property.
When you want to upgrade your home security, installing digital deadbolt locks on all the main entries into your home will deter even the most persistent intruders.
6 Features to Have on a New Deadbolt Lock
Several features of your new door deadbolt lock can enhance your safety and peace of mind. These include electronic keypads, automatic door locks, remote door lock access, keyless door handles, biometric deadbolt locks and alarms to alert you to problems. Continue reading to learn more about these features.
Electronic Keypad Deadbolt Locks
These eliminate the need to carry keys and replace lost ones. You can program these locks with any of 10,000 different combinations, using 2 to 8 digits. Change the combination as often as you like, and be sure to select a passcode identification not connected to your personal information. Avoid using a birthday, address or telephone number. Electronic deadbolt locks can be installed on more than one door of the house. Change the door handle to a contemporary lever style, or keep a more traditional round door knob. Battery life for these locks runs up to 2 years, and you can purchase the batteries anywhere you buy locks.
Automatic Door Lock after Opening
Many electronic keyless deadbolt locks have an optional feature that automatically locks the door after it has been open for 10 seconds. This is a great option if you are shepherding small children into the house or frequently bring in heavy loads of groceries.
Remote Door Lock Access
A small remote control, like that for your car, can release your door latches from as far away as the driveway. This is helpful for people using mobility assist devices to ensure the door is open and ready to swing out of the way when they reach the entry. The remote batteries last for 1 to 2 years.
Keyless Door Handles
An electronic locking system can still be thwarted if the door handle has a key lock. Remove this means of access by purchasing a new keyless door handle with your electronic keypad locking system. Since the majority are battery-operated, you will still be able to get into your home in the event of a power outage.
Biometric Scanner Deadbolt Locks
Choose the latest in security features for your new deadbolt lock by purchasing a biometric scanner deadbolt lock. This can be programmed to read just your fingerprint and one or two others of your family. No longer do you need to remember passwords or worry about keying them in before the alarm activates. These run on long-life independent battery systems that last from 2 to 5 years.
Alarms on Your Electronic Deadbolt Lock
Most electronic deadbolt locks come equipped with a set of audible alarms that will tip you off to the door being locked, unlocked, a low power reading for batteries, and a jammed lock. You can hear these distinct signals for only a short distance, usually within 4 feet of the door.
When you choose a new deadbolt lock that has even a few of these features, the payoff in greater security for your family and possessions will be priceless. Many are easy to install yourself, but to assure effective lock operation, contact a qualified locksmith to install the lock for you and show you how to use it efficiently.
Where to Add a Deadbolt Lock in Your Home
Dead bolt locks are locks which cannot be forced in the traditional 'credit card' way because they present a solid face through any door frame gaps. Dead bolt locks are among the most secure of all locks for domestic purposes. It is easy to forget that a latch lock is easy to open because it is easy to close – no key required.
Main Access Doors
The most obvious places for a dead bolt lock are the front and back doors. The front door lock should be operated by a security key that requires being turned through 720º before the door is dead-bolted. Ideally you should fit two dead bolt locks, one about a third of the way up the door and the other at the top of the door. The tongues of dead bolt locks can be secured in the door frame or in an iron hasp secured to the door frame. A tongue that is secured in the door frame requires the lock to be installed in the door which can be difficult with some styles of door – metal doors especially. From inside the house dead bolt locks are operated either by pressing a button and sliding them open or by pressing down on a knurled wheel and winding them open.
Secondary Access Doors
If you have a garage and a cellar with access to the house you should fit a dead bolt lock to each of the doors. Often the most vulnerable door is the one that you don't lock very often. Doors into the house from the cellar and the garage are often thought to be safe because they are protected by other doors. If the door from the garage is relatively flimsy it might make more sense to fit a dead bolt lock to the garage door, one towards the bottom of each side.
Sash Windows
Windows that can elevate should be fitted with dead bolt locks. These locks fit through the side of the window into the window frame so that the window cannot be raised. They can be operated by a security coded key but are more often operated by an Allen key
Security Warning
If your dead bolt lock key does not need to turn through 720º (ie. two full revolutions) there is a good chance that it will be vulnerable to a very simple lock picking process called bumping.
Bumping a dead lock simply involves using a cut down key of the right type and giving it a sharp tap after inserting it into the lock. The sharp tap displaces the lock tumblers and the cut down key is able to open the door.
Before installing any dead bolt lock make sure that it is proofed against bumping.
Even some 720º locks can be bumped so it is worth the expense to pay a little extra for home security and get locks that are totally secure. If you already have dead bolt locks fitted, ask about a special aerosol preparation that can be applied to them to make them secure.